Home
Outdoor Wall Lights
Outdoor Wall Lights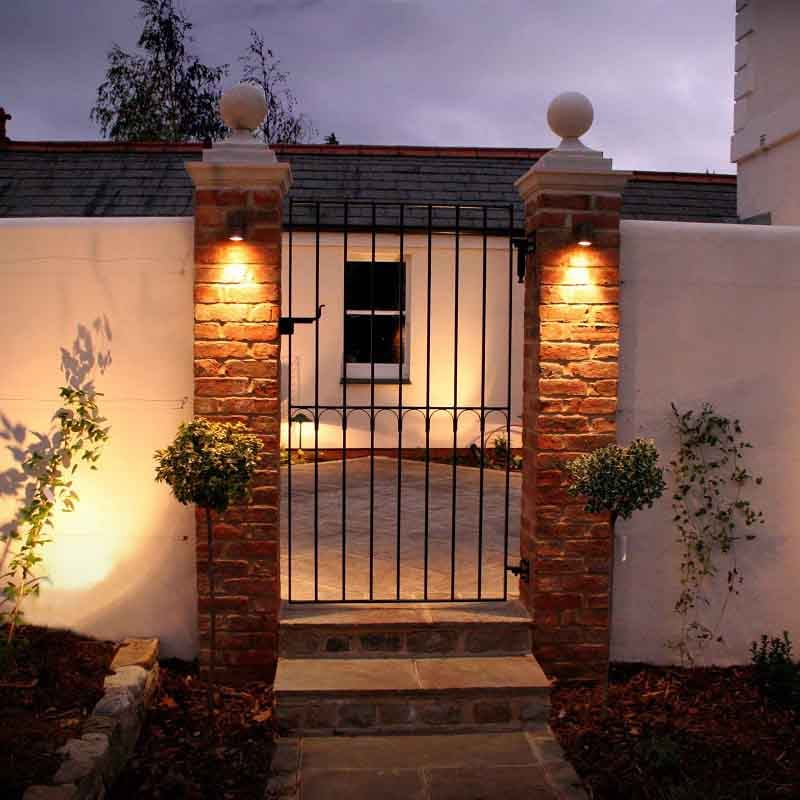 Elipta outdoor lighting includes; Up and down outdoor wall lights, outdoor porch lights, hanging wall lights, bulkheads, garden security lighting, outdoor wall lights and traditional lantern lights. Quality exterior lighting constructed from natural copper, high-grade stainless steel and solid brass. External wall lights and garden wall lights with PIR and dusk til dawn outdoor sensors.
We also stock a range of modern wall lights featuring contemporary designs and built-in LED's; outside lights with a sleek, graphite grey powder coat finish. Elipta outside wall lights are available in both 240v and low energy 12v with retrofit outdoor lamps with varying beam angles, colour filters and lumen outputs.
Please remember to buy a 12v transformer with any 12v products
Click here to see our transformer range for our LED wall lights
Photo credit : Mike Shackleton O.G.L £75.00 (exc vat)
£90.00

(inc vat)
Low voltage copper outdoor wall spotlight 12v MR16. Longer body shields the lamp from view, accepts greater number of MR16 lamps with space for colour filters and clip on lens. Natural copper body will turn to a mottled brown colour over time (2-3 months)
Read More £83.00 (exc vat)
£99.60

(inc vat)
Titan10 LED Spotlight - 12v - 10w Warm White - Non dimmable
Read More £44.00 (exc vat)
£52.80

(inc vat)
Light mahogany-anodised outdoor wall spotlight led lamp
Read More £25.00 (exc vat)
£30.00
(inc vat)
Usual Price:

£44.00
Mahogany-anodised outdoor wall spotlight led lamp
Read More £43.00 (exc vat)
£51.60

(inc vat)
Elipta Compact outdoor wall spotlight is an adjustable 12v wall or post mount spotlight for downlighting and accent lighting focal points.
Read More £43.00 (exc vat)
£51.60

(inc vat)
Elipta Compact outdoor garden spot light is an adjustable 12v brown wall or post mount spotlight for pergolas and structures
Read More £80.00 (exc vat)
£96.00

(inc vat)
Elipta compact outdoor wall spotlight is an adjustable 12v wall or post mount spotlight for downlighting
Read More £37.50 (exc vat)
£45.00

(inc vat)
Elipta MicroSpot outdoor wall is a miniature adjustable 12v wall spotlight typically used for spotlighting small focal points or downlighting from arbours or pergolas
Read More £42.00 (exc vat)
£50.40
(inc vat)
Usual Price:

£49.00
Elipta Microspot outdoor wall light is a miniature adjustable 12v wall spotlight typically used for spotlighting small focal points or downlighting from arbours or pergolas
Read More £55.00 (exc vat)
£66.00

(inc vat)
Elipta Microspot outdoor wall light is a miniature adjustable 12v wall spotlight typically used for spotlighting small focal points or downlighting from arbours or pergolas
Read More £25.00 (exc vat)
£30.00
(inc vat)
Usual Price:

£45.00
Black-anodised outdoor wall spotlight for led lamp
Read More £25.00 (exc vat)
£30.00
(inc vat)
Usual Price:

£45.00
Titanium-anodised outdoor wall spotlight for led lamp
Read More £48.00 (exc vat)
£57.60

(inc vat)
Compact outdoor Wall Spotlight - Black - 240v GU10
Read More £70.00 (exc vat)
£84.00
(inc vat)
Usual Price:

£80.00
Elipta Compact adjustable outdoor wall spotlight in natural copper (weathered image featured) IP65 240v available with wide range of COB LED lamps, honeycomb glare louvres and accessories"
Read More £48.00 (exc vat)
£57.60

(inc vat)
Elipta Compact outdoor wall spotlights are adjustable wall or post mount spotlights for downlighting and accent lighting focal points
Read More £86.00 (exc vat)
£103.20

(inc vat)
Elipta compact outdoor wall spotlights are adjustable wall or post mount spotlights for downlighting and accent lighting focal points
Read More £20.00 (exc vat)
£24.00
(inc vat)
Usual Price:

£48.00
Elipta Compact outdoor wall spotlights are adjustable wall or post mount spotlights for downlighting and accent lighting focal points
Read More £106.00 (exc vat)
£127.20

(inc vat)
Elipta Compact twin outdoor wall spotlights are ideal for mounting above french windows to provide threshold lighting
Read More