Outdoor Wall Lights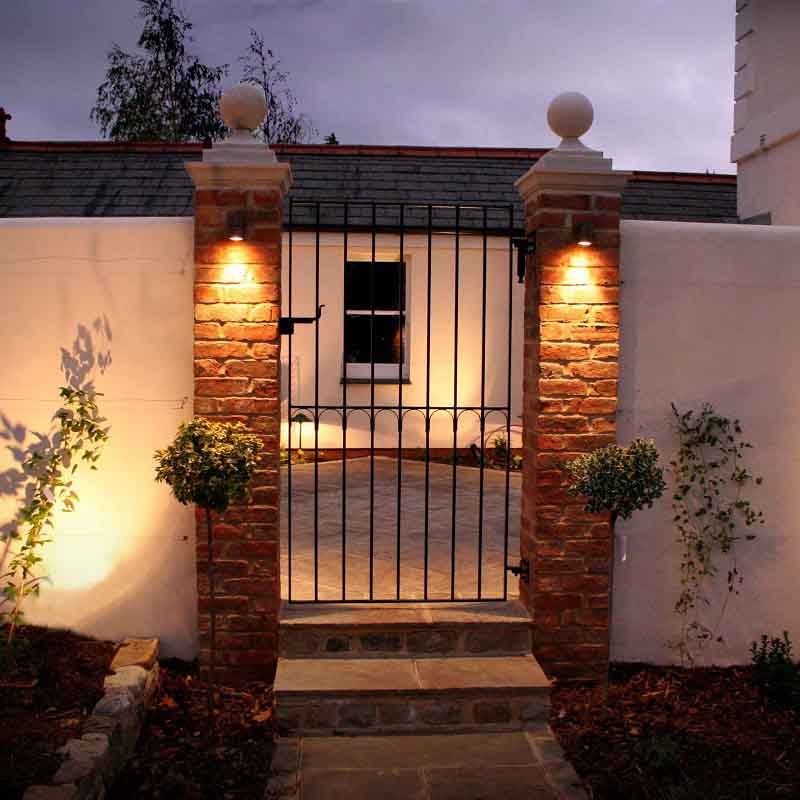 Elipta outdoor lighting includes; Up and down outdoor wall lights, outdoor porch lights, hanging wall lights, bulkheads, garden security lighting, outdoor wall lights and traditional lantern lights. Quality exterior lighting constructed from natural copper, high-grade stainless steel and solid brass. External wall lights and garden wall lights with PIR and dusk til dawn outdoor sensors.
We also stock a range of modern wall lights featuring contemporary designs and built-in LED's; outside lights with a sleek, graphite grey powder coat finish. Elipta outside wall lights are available in both 240v and low energy 12v with retrofit outdoor lamps with varying beam angles, colour filters and lumen outputs.
Please remember to buy a 12v transformer with any 12v products
Click here to see our transformer range for our LED wall lights
Photo credit : Mike Shackleton O.G.L £67.00 (exc vat)
£80.40

(inc vat) £55.00 (exc vat)
£66.00

(inc vat)
Microspot Up/Down - Stainless Steel - MR11 12v
Read More £84.00 (exc vat)
£100.80

(inc vat)
Cyclone Up/Down outdoor wall light - 240v Warm White LED – Powder coated Graphite Grey finish.
Read More £91.00 (exc vat)
£109.20

(inc vat)
Elipta Compact outdoor up&downlight is a 240v wall or post mount model for fixed up/downlighting and grazing applications to create stylish wall illumination effects
Read More £106.00 (exc vat)
£127.20

(inc vat)
Elipta Compact up&down outdoor wall light is a 240v wall or post mount model for fixed up/down lighting for grazing applications to create stylish wall illumination effects
Read More £62.00 (exc vat)
£74.40
(inc vat)
Usual Price:

£68.00
Elipta Compact up&down outdoor light is a 240v wall or post mount model for fixed up/downlighting and grazing applications to create stylish wall illumination effects
Read More £50.00 (exc vat)
£60.00
(inc vat)
Usual Price:

£68.00
Elipta Compact up&down outdoor light is a 240v wall or post mount model for fixed up/downlighting and grazing applications to create stylish wall lighting effects
Read More £3.25 (exc vat)
£3.90

(inc vat)
58mm Honeycomb Glare Louvre for Elipta Compact, Corona and Carina range MR16 and GU10 spotlights
Read More £13.00 (exc vat)
£15.60

(inc vat) £13.00 (exc vat)
£15.60

(inc vat) £13.00 (exc vat)
£15.60

(inc vat)
Clip-on Moonlighting (Pale Blue) Filter
Read More £13.00 (exc vat)
£15.60

(inc vat) £13.00 (exc vat)
£15.60

(inc vat)
£13.00 (exc vat)
£15.60

(inc vat) £13.00 (exc vat)
£15.60

(inc vat)