Path, Step & Deck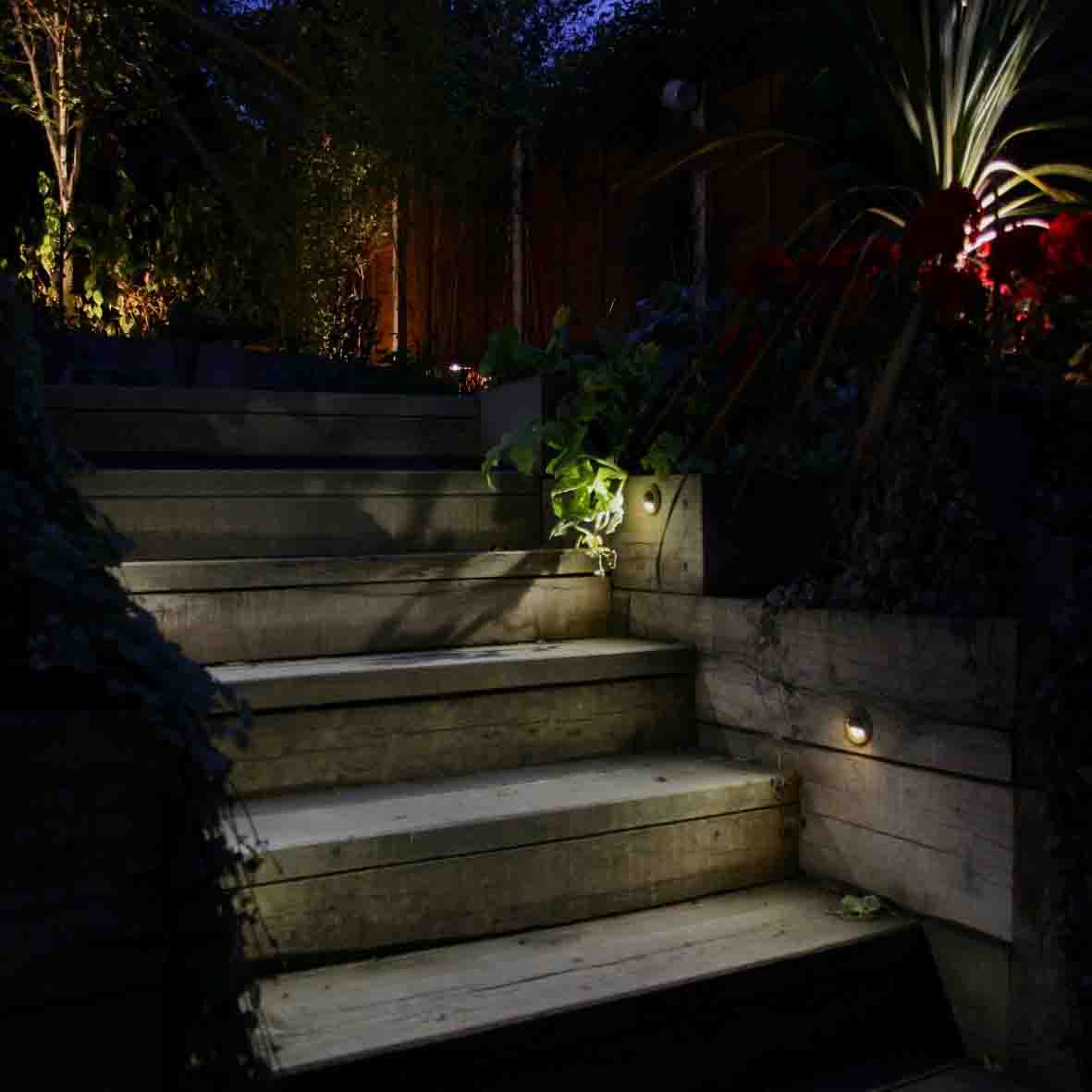 Elipta outside lights function when the natural light begins to fade but remain aesthetically pleasing during daylight hours enhancing the overall appeal of the garden path, decking and driveway.
Elipta garden lights are constructed from heavy raw materials including; solid brass, recessed and surface mount step lights, mottled brown, natural copper spreadlights, rock solid granite outdoor post lights, teak garden bollard lights for path, bronze outdoor step lights and 316 stainless steel decking lights. Our natural copper and chrome spreadlights shield the lamp from view for low-glare path and step lighting. For functional and more organic looking outdoor lighting, Elipta Teak garden bollard lights weather naturally in the garden and provide 'higher-brightness' lighting around driveways. The copper, black and stainless steel compact bollard lights make great outdoor post lights. And not forgetting driveway lights; Stainless steel Waymarker drive over lights recessed along an entrance path or drive act as stunning exterior lights as well as providing a warm and helpful welcome to guests. Patio lights and LED garden lights help to extend the use and enjoyment of your garden setting.
Elipta garden lights are all compatible with dimming control switches (with the exception of some built-in LED fittings) timer and movement sensors (click here to find out more about controlling your garden lights) or call 01462 486777 for free technical advice.
Please remember to buy a 12v transformer with any 12v products
Click here to see our transformer range
Step light photo credit - Mike Shackleton £87.00 (exc vat)
£104.40

(inc vat)
is a stylish 12v recessed light for illuminating steps or patios
Read More £49.00 (exc vat)
£58.80

(inc vat)
Elipta IP65 12v single pole-mounted path light designed for downlighting onto pathways and outdoor steps or it can also be used as a washing light on walls or garden features. Elipta E5531 is a lightweight die-cast aluminium path light, with matt black powder coated finish and built-in LED.
Read More £85.00 (exc vat)
£102.00

(inc vat) £58.00 (exc vat)
£69.60

(inc vat)
Gemini Outdoor Wall Light - Warm White - White
Read More £58.00 (exc vat)
£69.60

(inc vat)
Gemini Outdoor Wall Light - Warm White - Black
Read More £55.00 (exc vat)
£66.00

(inc vat)
Compact Bollard Light - Black - 12v G4
Read More £18.00 (exc vat)
£21.60

(inc vat) £120.00 (exc vat)
£144.00

(inc vat)
Alto 60 240v LED outdoor bollard light - Stainless Steel
Read More £38.00 (exc vat)
£45.60

(inc vat)
MicroLED 12v 10x6mm - Warm White LED - Strip only - 5 Metres - 325lm
Read More