Uplights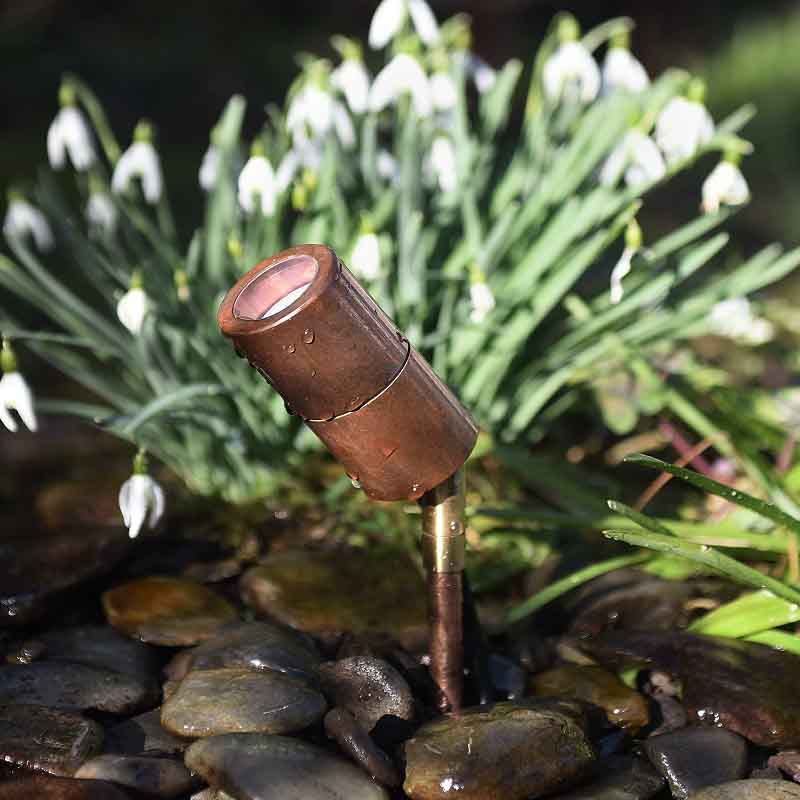 LED outdoor lighting, spike-mount spotlights, recessed garden lighting and floodlighting - every type you need to make the statue dramatic, the tree impressive, and the shrubs inspiring in your garden lighting scheme!
Wherever possible, choose Elipta 12v garden lights rather than the 240v option; they are inherently safer, more robust and far less prone to nuisance tripping. The low voltage system includes miniature adjustable 12v spotlights for small feature plants through to compact twin pole spotlights for lighting shrubs and hedges.
240v outside lights such as high power metal halide uplights are suitable for lighting large trees.
There are several options for low-energy LED lighting, both with integral LED arrays and with the option of replaceable LED lamps, including a choice of beam angles and coloured filters. At the moment, Solar lights continue to struggle with lumen output and all year round performance. Elipta garden lighting products are both functional and aesthetically pleasing to look at, with a quality range of external lights - deck lights in several sizes, finishes and materials to suit the modern garden setting, as well as low energy, high output LED exterior lighting.
Please remember to buy a 12v transformer with any 12v products
Click here to see our transformer range for garden LED lights £34.00 (exc vat)
£40.80

(inc vat)
Low voltage LED uplight, garden spike spotlight in rustic brown.
Read More £76.00 (exc vat)
£91.20

(inc vat)
20w Floodlight 1600lm IP66 Rustic Brown 2700K C/w Spike & Shield
Read More £43.00 (exc vat)
£51.60

(inc vat)
Discreet rustic brown adjustable 240v outdoor spike spotlight.
Read More £48.00 (exc vat)
£57.60
(inc vat)
Usual Price:

£54.00
7w Floodlight 550lm IP66 Rustic Brown 2700K C/w Spike & Shield
Read More £35.00 (exc vat)
£42.00

(inc vat)
Adjustable 12v spike spotlight for small focal points or uplighting feature plants in urns, raised beds and other containers.
Read More £69.00 (exc vat)
£82.80

(inc vat)
Pole Spot Solo is a single pole-mounted garden spike spotlight ideal for uplighting trees and taller shrubs
Read More £105.00 (exc vat)
£126.00

(inc vat)
Elipta's 12v Pole Spot Duo is a twin pole-mounted outdoor spotlight ideal for uplighting trees and taller shrubs
Read More £5.00 (exc vat)
£6.00

(inc vat)
25cm Compact Spike Extension - Rustic Brown
Read More £12.00 (exc vat)
£14.40

(inc vat)
30cm Pole Extension for Microflood, Pole Spot Solo and Pole Spot Duo
Read More