Home
Plug&Play Garden Lights
Plug&Play Garden Lights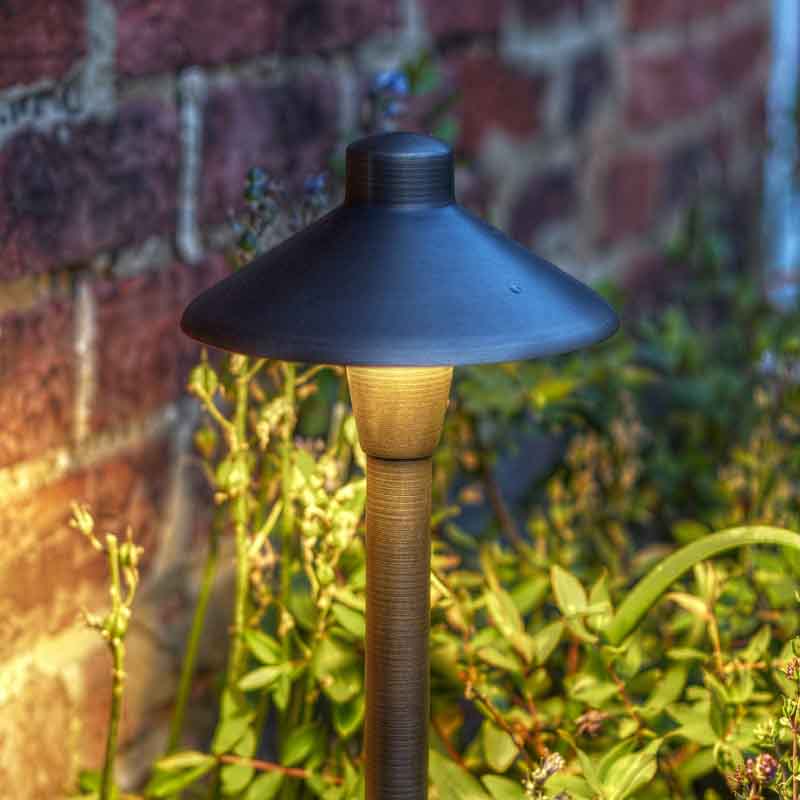 The latest system for easy installation of low voltage garden lighting offers a full range of 12v garden lights with compatible IP44 connectors and a complete range of Plug&Play outside lights, transformers, connectors, extension cables and junction boxes – all designed for installation without tools and to reduce the amount of electrician's time required on-site. And these are not low-spec garden lights – quality outdoor lighting made from high grade materials, with high performance LED's and a choice of the latest anodised, plated and polished finishes for the traditional and contemporary garden setting. Low voltage exterior lighting range includes; decking lights, outdoor patio lights, underwater lights, driveway lights and post lights.
Please remember to buy a 12v transformer with all of these products
Click here to see our transformer range £35.50 (exc vat)
£42.60

(inc vat)
Surface mount bronze finished brass eyelid steplight for lighting steps and patio areas
Read More £25.00 (exc vat)
£30.00

(inc vat)
Traditional style textured black powder-coated 12v aluminium garden spotlight
Read More £73.00 (exc vat)
£87.60

(inc vat)
Excellence - Warm White 12w Underwater Spotlight with Clear Lens
Read More £62.50 (exc vat)
£75.00

(inc vat)
8w warm white adjustable led underwater light with a choice of mounts
Read More £25.00 (exc vat)
£30.00
(inc vat)
Usual Price:

£42.00
Light Mahogany-anodised outdoor wall light for led
Read More £45.00 (exc vat)
£54.00

(inc vat)
Mini Flood - 12v outdoor floodlight, brass body with bronze finish
Read More £40.00 (exc vat)
£48.00

(inc vat)
Plug&Play light mahogany-anodised spike spotlight. Ideal for lighting shrubs and hedges, or easily adapts as a tree-spot for downlighting (Screw-on bracket available)
Read More £40.00 (exc vat)
£48.00

(inc vat)
ONLY ONE REMAINING!
Corona Spike Mount Spotlight - 12v MR16 - Titanium Anodised
Read More £67.00 (exc vat)
£80.40

(inc vat)
Brilliance RGB - RGB 8w Underwater Spotlight With Clear Lens C/w 6 Core Cable
Read More £25.00 (exc vat)
£30.00
(inc vat)
Usual Price:

£45.00
Titanium-anodised outdoor wall spotlight for led lamp
Read More £96.00 (exc vat)
£115.20

(inc vat)
12w Recessed led uplight with frosted lens
Read More £25.00 (exc vat)
£30.00
(inc vat)
Usual Price:

£40.00
Black-anodised outdoor wall light for led or halogen lamp
Read More £50.00 (exc vat)
£60.00

(inc vat)
4w warm white adjustable led underwater light with a choice of mounts
Read More £38.00 (exc vat)
£45.60

(inc vat)
1w recessed led lights for decking and paving
Read More £210.50 (exc vat)
£252.60

(inc vat) £11.50 (exc vat)
£13.80

(inc vat)
Lumini - Warm White 0.3w Deck Light With Frosted Lens
Read More £76.00 (exc vat)
£91.20

(inc vat)
Starter kit of 5 recessed led lights for decking and paving
Read More £170.50 (exc vat)
£204.60

(inc vat)
5 light set of IP68 adjustable spotlights with 3w led lamps
Read More