Special Offers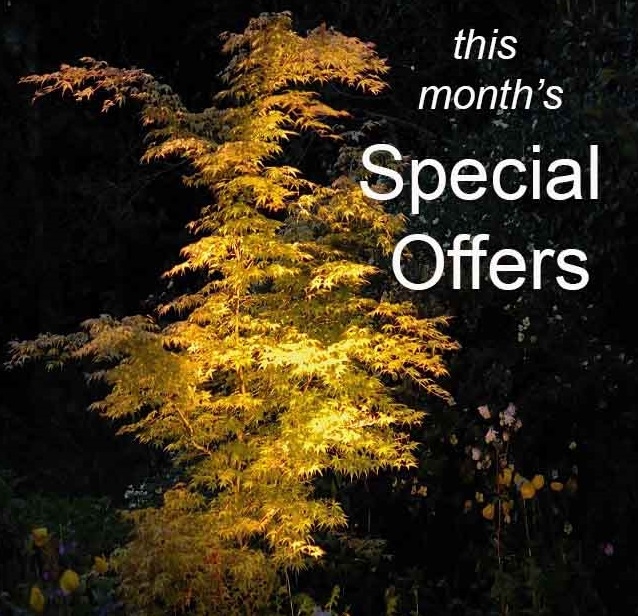 Clearance offers on garden lights and outdoor lighting - take advantage of these great offers - all at reduced prices for a limited time!
Special offers on exterior lights vary month to month
Please remember to buy a 12v transformer with any 12v products £21.25 (exc vat)
£25.50
(inc vat)
Usual Price:

£25.00
Navigator Minor is a low energy, high output l.e.d. deck and recessed light which consumes a small amount of power and stays cool to the touch.
Read More £47.50 (exc vat)
£57.00
(inc vat)
Usual Price:

£53.00
Adjustable miniature 12v spike spotlight for spotlighting small focal points or plants
Read More £31.50 (exc vat)
£37.80
(inc vat)
Usual Price:

£35.00
Adjustable 12v spike spotlight for small focal points or uplighting feature plants in urns, raised beds and other containers.
Read More £89.00 (exc vat)
£106.80
(inc vat)
Usual Price:

£111.00
Modula recessed uplights are stylish adjustable uplights with a choice of 3w - 7w L.E.D. lamp
Read More £62.00 (exc vat)
£74.40
(inc vat)
Usual Price:

£73.00
8w warm white adjustable led underwater light with a choice of mounts
Read More £67.50 (exc vat)
£81.00
(inc vat)
Usual Price:

£75.00
Smart stainless steel adjustable 240v spike spotlight with wide range of Led lamp choices
Read More £79.00 (exc vat)
£94.80
(inc vat)
Usual Price:

£88.00
Titan10 Led Spotlight - 240v - 10w Warm White - Non dimmable
Read More £65.00 (exc vat)
£78.00
(inc vat)
Usual Price:

£72.00
E8011L is a stylish 12v recessed light for illuminating steps or patios
Read More £58.50 (exc vat)
£70.20
(inc vat)
Usual Price:

£65.00
Micro Underwater Light 2w 3000K Stainless Steel 24v DC 200Lm
Read More